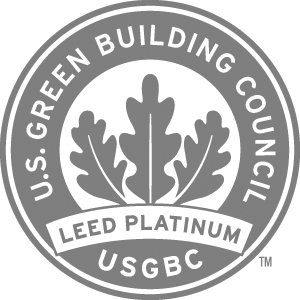 Completion Date
2011
Location
Raleigh, NC
Client
NC Department of Environmental Quality
Size
150,000 sf
Associate Architect
Fentress Architects
Photography
1, 3, 4 Copyright Hedrich Blessing
Photography
2, 6, 7 Copyright Jerry Blow Architectural Photography
Photography
5 Copyright Jason Knowles, Fentress Architects
N.C. Department of Environmental Quality Headquarters
Green Square is the State of North Carolina's premier sustainable project.
The NC Department of Environmental Quality (NCDEQ) identified the redevelopment of a two-block area in the heart of Downtown Raleigh (Jones Street – the state government corridor) as Green Square.  The redevelopment has multiple components with one being the Agency Headquarters.  The Headquarters consolidates NCDEQ employees and is connected via skybridge to the Nature Research Center, another component of the Green Square development.
As the state's environmental steward, it desired a facility which physically manifested its mission. The design team responded with extensive, and complex, sustainable design strategies to achieve LEED® Platinum certification.  The NCDEQ Headquarters is one of the very first State of North Carolina projects to achieve this distinction. The Headquarters facility is also the first State facility to be designed and equipped with 100% LED Lighting. The lighting system was designed to exceed North Carolina's general statute requirement that energy savings must exceed ASHRAE by 30% and model energy codes by 55%.  This reduction has been verified using the building's measurement and verification system.